I'm not strong enough to deal with it. I am slowly falling apart. I wish you'd take a walk in my shoes for a start. And you might think it's easy being me. You just stand still, look pretty.
Hybel 4th, 1513 – Carico Estate, River Sulis, Lothianshire Albion
The words on the page in front of him were wavering for the third time, Josh closed his eyes and took a deep breath. The problem he'd found with choosing poetry as the subject he was being "tutored" in was that for so many years poetry had been his refuge from the craziness that came with being a Carico. But now every time he sat down to read one of those volumes, all he could hear was Darin's deep voice, practically see him sitting in that chair by his desk, that half a smile on his lips. And that was just another bit of craziness that truthfully Josh didn't need.
He sighed and flipped the page. He hadn't expected to find someone he felt about the way he felt about Darin. Someone whose soul was a cracked and crazed and battered as his own was, but unlike Josh, someone who drew strength from adversity, someone who didn't let that break him. He doubly would never have expected that it would be a "him", certainly there were men that had "agreements", he wasn't totally innocent to the idea, but even had he entertained the idea, which he hadn't really, before Darin, he'd never been that strongly attracted to anyone, male or female. Still an orphaned peasant boy was hardly what he ever would have pictured. Somehow though, none of that mattered when he looked at Darin. Still, it all hardly seemed to matter, Darin definitely was interested in the fairer sex, all you had to do was watch him with an attractive serving maid. And he had this feeling that was so deep it felt like knowledge that what was in store for him was that old Gaulish saw. Die young and leave a beautiful corpse.
And that brought his thoughts back around to why he was sitting here trying to lose himself in a volume of poetry anyway. In just a couple of short hours, they'd be piling into the carriage and heading to the cathedral to listen to a bunch of people lie about Milford Rance and what a great man he was.
It was usually lies, but when you considered he'd be in the pew next to–and behind–the reason that the man was in a box in the first place, the lies seemed that much more distasteful.
A knock came a moment later on the door. Josh didn't jump exactly, but he did stand up and give his waistcoat a firm tug before saying "Come in."
The door didn't reveal who he thought it would. Usually if his mother wanted to see him, she had one of the maids summon him to wherever she was. But it was definitely his mother standing in the doorway, her black silk suit showing not the slightest sign of wilting, despite the heat of the day.
"I'm sorry to intrude." His mother said, pausing just a few steps inside the door. "But I am at my wits end, Josh." Josh couldn't help the blink, if he did manage to restrain gaping at her. His mother come to beg help off of him. "Your sister listens to you far better than she ever listens to me. Please, try and talk some sense into her."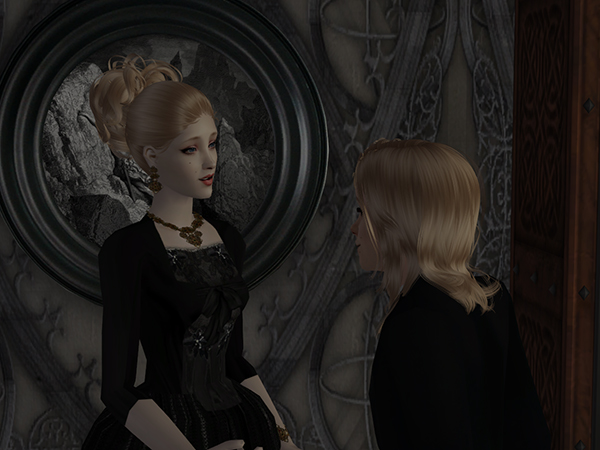 "I know she's stubborn, she's related to your father's family and mine. But usually she'll see sense." It was a shock to see Marisol flustered. Nothing ever seemed to phase her, she had a completely enviable ability to roll with whatever life threw at her. But she was definitely frazzled. "I do not even want to know what will come out of this. Please, Josh. I've had the maids lay out a couple of my suits, we have time to have them hemmed up before we have to leave.
"All right, Mother." Josh said, not quite tracking what she was talking about. But apparently Bet had gotten an idea in her head and was being stubborn about it. Which if he thought about it, he should have expected. You'd have to be a saint to forgive a man who had done to Bet what Rance had. And now she had to go sit in the cathedral and listen to the same lies Josh had been lamenting listening to earlier. Of course she would rebel–and of the four of them, only Marisol didn't know why she would be rebelling.
"Thank you, Josh. I'll be downstairs in the parlor." Marisol turned and walked back out into the hall and down the stairs. Josh squared his shoulders, feeling like a man suiting up for a battle, because if Bet had dug her feet in, it'd probably be one. And he he walked out the door, crossing the short piece of hall that separated his bedroom from hers and tapped on the ornate door.
"Who is it?" His sister's familiar voice came a moment later.
"It's Josh, can I come in?"
"Of course." Of course. He pushed the door open and walked into his sister's domain. Bet was at the mirror, checking her cosmetics, he guessed. "Mother sent you in to deal with me, huh?"
"Yeah. She didn't, uh, actually get to the part where she explained what I'm supposed to be talking with you about, though."
"My dress. She doesn't think it's appropriate, either for my age or the event." Bet smoothed the waves of her hair one last time before stepping away from the mirror and around the screen. Josh bit his lip, pretty much to keep from pounding his fist against his forehead and groaning. He could definitely see why his mother had a problem with it. No twelve year old should be showing that much decolletage, nor really anyone attending a funeral.
"And you do?" Josh asked. If he couldn't be honest with Elizabet than who could he be honest with? That was the thing that his mother didn't understand about dealing with Elizabet when she got into one of her stubborn phases. You had to lay your cards out on the table, be honest. Marisol never laid her cards on the table. She wasn't dishonest but she kept so many things close to the vest that you never felt she was truly being honest.
"If all I am to Father is a means to an end, a piece of meat to be auctioned off to the person who can give him what he wants, then why shouldn't I acknowledge that?" Elizabet said, planting her hands on her hips in a way that said that he was not off to a great start.
"Because that's not what you are, Bet. Aren't you the one who always says that Father shouldn't win with us? He doesn't get to break you, he can't." Josh pulled his sister into a long hug, hating the way her body quivered as he did it.
"You think he should get to break you. Aren't you the one who is always trying to be what that son of a bitch thinks you should be? To the point of completely denying your own heart?" Elizabet pointed out ruthlessly.
"And since when do you want to be me, Bet?" Josh shot back.
"Since I realized it doesn't matter!" Elizabet said. "I'm still just a piece on his game board and nothing I do will change that. What's the point in fighting and arguing and trying to be something else?"
"Okay." Josh said. He saw her blink before he turned for the door.
"Okay?" Elizabet echoed. "What are you doing, Josh? Where are you going?"
"To my room, to get The Sword." The Sword had been Joshua the First's. The one that he had used to lead the army against the Remans in the battle that won the town. Elizabet caught his arm.
"And what are you going to do with it?" He felt a little tingle of something–magic, maybe?–coursing between her palm and his bicep.
"I'm going to kill our father with it." Elizabet gasped and that tingle became a current that locked him in place.
"Josh! Don't even joke about that!" Elizabet told him in a shocked voice.
"I'm not joking. If I can't protect you from him while he's alive, then I'll just bloody make him not alive." Josh said through clenched teeth. "The king won't even have to come to River Sulis twice for a funeral. He can just stay an extra day while we get a box."
"Josh, don't throw your life away."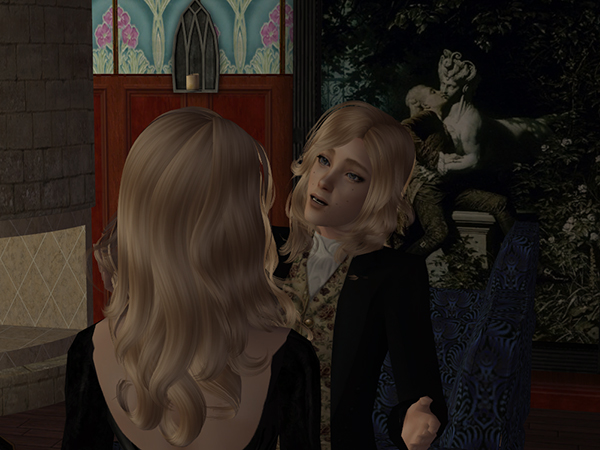 "What life, Bet? I'm so fucked up that I can't even fall in love right. You'd make a much better baroness than I'll make a baron, Mother can go on with her life, Darin will be okay, you'll take care of him, I know. Everyone and everything I care about will be safe as long as he's not here." Josh enumerated for her. It was about all he could do, his legs were trembling from whatever she'd done to him, and he wasn't sure that they wouldn't fail him a moment later.
"Josh." Elizabet's voice broke. "You can't do that."
"Orkneys are good at killing people who get in their way. It–and being batshit crazy–is about all we are good at."
"I. Won't. Let. You." Elizabet told him.
"If my choices are you or him, I choose you. If my choices are you or me, I still choose you." Josh told his sister.
"Josh." Elizabet whispered. "You won't, promise me, you won't. We can't lose each other."
"If the dragon's gone, you won't need me."
"But I will. I need you to be my big grouchy brother to scare all the pimply faced suitors Mother scrounges up. I don't want to be Baroness. I want to be able to stand behind you and tell you I told you so while you do it." Elizabet laughed, except it didn't touch her eyes at all. "I won't stop needing you after he's gone and I am not going to let you take yourself away from me."
A tap came at the door. "Lady Elizabet, Lord Joshua. Your lord father says it is time for you to leave."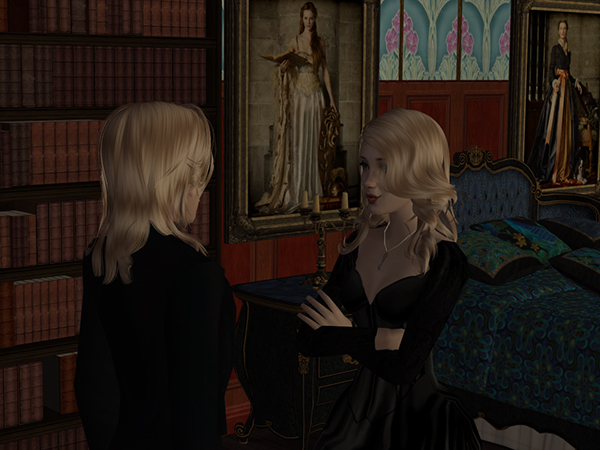 "See, we'll be late for the funeral if you kill him. You can't kill him." Elizabet stuck her tongue out at Josh. "We'll be right down, Fern. Now," Elizabet poked him. "You stop being crazy. Right now, Joshua Piers."
"You first, Elizabet Sophie. I always have to go first, it's your turn."