"You say we'll soar like two birds through the clouds, but soon you'll cage me on your shelf – I'll never learn to be just me first by myself."
Imsdyn 20th, 1513 – River Sulis, Lothianshire, Albion
The only sounds for a moment was the soft call of a mocker-bird in the yard and the soft splash of water in the basin, but that would change shortly. There was someone on the other side of the whitewashed kitchen door and soon enough that she would start speaking again. Annette had already put off listening to her talk for long enough.
"Are you sure you don't need help, Annette?" It was funny, Tawny's speaking voice would be wonderful if it just didn't have that petulant whine to it. If life had dealt her another hand, made her someone other than the third trophy wife of a man whose only accomplishment was avoiding drafts enough to still be alive at this point in time.
"It's two cups and a plate with crumbs on it. I don't need any help." Annette said leaning her head against the shelf above the sink and scrubbing more than strictly necessary at the cup in her hand.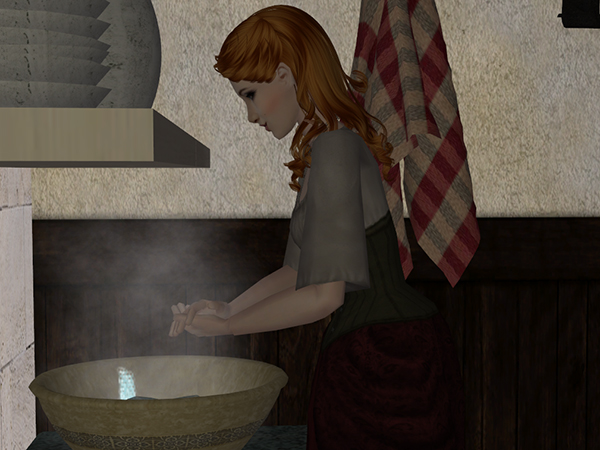 "Miguel hired a housekeeper for us." Tawny bragged. And she'll be gone by Hybel. Annette thought cynically. Like every other housekeeper that Miguel's ever had. She'll get worked like a saltminer, paid a pittance, and have to deal with Miguel, it's a bad deal and she'll figure it out within six months.
I wonder how long it'll take Tawny to figure out she got a bad deal–or maybe she already had, she did come by when we could talk alone. Or maybe she hadn't, Annette thought, tossing the waste water out the window and putting the tea cups back on their pegs and the plate into the dresser. She may have figured out that her new role isn't all sunshine and roses, but she's probably not come to the realization that somebody sold her that proverbial riverside property in the Dousa Desert yet.
"But it is nice to come take tea with you, I mean we're practically sister in laws." Tawny said. Oh please don't say that. Annette packed down a tiny whimper. My family is crazy enough as it is, I don't need to add the Coxs any further into the mix. Not that she didn't love Christian and Selene and her mother. But see, the thing about Patron was he packed enough crazy into one old man for about six families. She shut the cupboard door with a little more force than she had to as she always did when she thought of her late, not lamented father.
"Well, I know we're not really." Tawny nattered on, obliviously. Thankfully, being her husband's cousin's wife didn't make them all that closely related. The only thing, sometimes, that saved the Coxes was that Annette did not want to be in the same position her mother had been in–in the Tower prison for murdering the father of her children–or in Annette's case child. "But, you are right next door." And if she didn't kill Masen, that would leave Lyssandra alone with him. And promises be damned, she didn't trust him any further than she could throw the house. Annette raked fingers through her coppery hair, eyes flickering around the kitchen for something that could keep her attention for just a little longer. "A-Annette? I-uh-I need to talk with you, before um–while we're alone." And that was her cue to stop procrastinating.
"Let's go to the parlor." Annette said pushing through the door to the dining room and shooing the younger woman toward the door like a goose girl with a goose. It'll give me another half moment to not have to think about any of the reasons you might possibly want to talk to me alone. She had a pretty good idea why Tawny wanted to talk to her and equally she didn't want to think about why Tawny wanted to talk to her.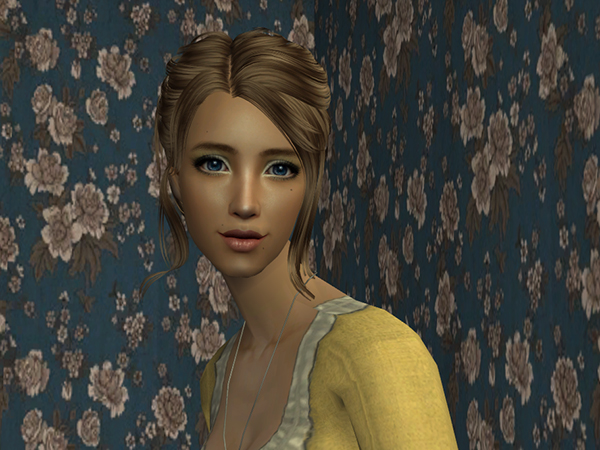 Tawny sat down on the settee, Annette chose the arm chair and both women took a long moment to arrange their skirts.
"Annette, I would rather bite my tongue out than be critical of my husband." That's okay, Tawny, Annette schooled her expression to be as serene as possible. I'll be as critical of him as possible. "But, Miguel tells me that his father is planning a visit."
Oh no! Because a visit from Luis almost inevitably meant a visit from Ellan and that was the LAST thing that Annette needed right now. But the brothers Cox, having emotionally and mentally battered their wives into respective early graves, were basically joined at the hip. I don't need to deal with my father-in-law right now!
"And I," Tawny continued on blithely "would like to inform him, when he arrives, that I'm–that I've fullfilled my duty, for surely the Lord Wright will reward me for patience by bearing my husband a son. But–I am not–yet–um," she trailed off.
"You're still getting blood on the sheets." Annette hide a rub at her temples by sweeping her hair back.
"Well, to put it crudely, aye." Don't be asking me for sex advice, don't be asking me for sex advice. Annette thought without much hope. "And I know that you aren't–necessarily–it did take you more than two years after your marriage to become with child–and you only have the one, but I thought you might understand my plight, as you've surely been trying for a son."
"No." The answer came automatically and so firmly that Tawny looked at her bewildered.
"N-no." Tawny asked. "Do you think that giving your husband a daughter makes you–above me? Only a mere daughter?"
"No, I understand what you're going through. We're just not trying for a son. Masen and I agreed we would have one child, regardless of gender, the Lord Wright blessed us with Lyssandra, and I'm happy with that." Annette told her. The only word for Tawny's expression was horrified.
"You would deny your husband the privilege of a son?" Tawny exploded. "But, what of providing him an heir?"
"An heir to what, Tawny?" Annette spread her hands and gestured around the parlor. "We're not landed nobility, it's not going to screw up the line of succession, the country will not crumble if one gentry couple, even one of cadet nobility lines, only has a daughter." Annette pointed out.
"But every man deserves a son." Annette slowly turned her head to fix Tawny with a sharp gaze. Do not tell me what my husband deserves. Her fingernails biting into her palm were probably what saved her from doing anything stupid. "St. Robert said so!"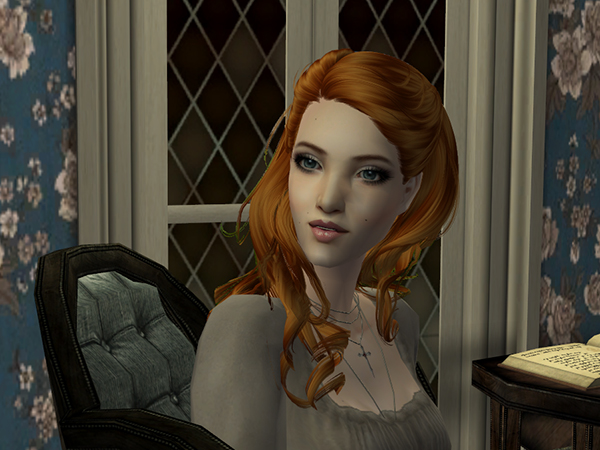 "Well, there is some debate on that passage, it is wonderfully vague and could just be people wishfully thinking. I'm of the mind that the Lord Wright probably likes women as much as men." Annette nudged the edge of the carpet with the toe of her shoe.
"How can you think that?" Tawny gasped.
"Because, if the Lord really hated women, why did he create them? Is he not capable of creating perfection? Are we to say that one of the Lord Wright's creations is better than another? If He had really only liked men, why create women in the first place? Why not just let men produce babies the way the fae do and not even bother with us." Annette's tone was caustic and Tawny winced.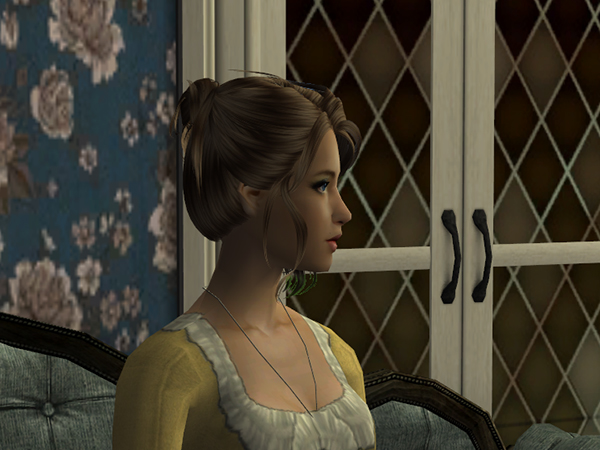 "But this is our duty–our privilege." Tawny thumped her hand against the arm of the settee.
"It's our privilege to be a walking uterus?" Annette scoffed and rolled her eyes. "The Lord Wright gave us minds and hearts to further his work, to improve the world, to love and succor our fellows, not to be an incubation chamber." Tawny sighed and looked over her shoulder toward the glazed window.
"As much as I would love to sit and debate the subject with you, can we please get back to the reason I came to talk with you?" Tawny asked with a sigh that Annette echoed. Arguing about the purpose of woman in the scheme of things sim was interesting, probably getting more detail about her cousin-in-law's issues in the sack was–nauseating–at best.
"I suppose." Annette said.
"Um, he–I am not saying this to be critical of Miguel!" Tawny fixed Annette with what she probably intended to be a steely gaze, unfortunately for her, Annette had been on the receiving end of a proper steely gaze more than once and Tawny's sharp features were about as steely as a kitten's. "He has–um–"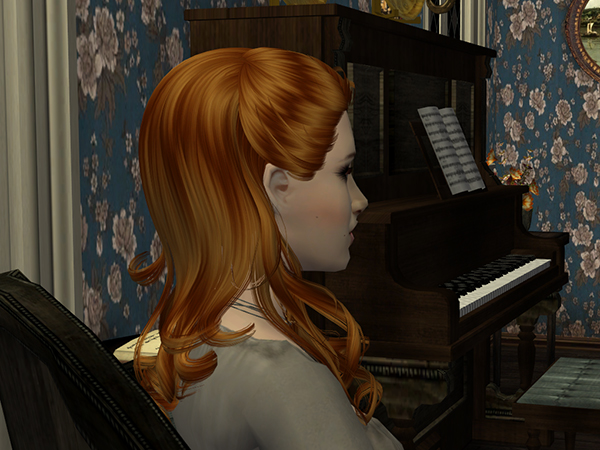 "Why don't you just be blunt. I promise I will think no worse of him for whatever you tell me." Mostly because it's very difficult to think worse of that horse's ass. "And I will take your statements under the mantle of not-being-critical."
"I–no matter what I do–I can't–he has a hard–" Tawny paused and swallowed hard. "It doesn't want to come up." She finished in a whisper. Ugh. Annette steeled herself against the wince which would only put Tawny on the defensive. "I've tried!"
Annette bit back the Honey, better women have tried. When you've heard that even professionals, women of heart-stopping beauty and immense skill, couldn't even work their magic on his inconvenient organ, it was not the fault of the just barely-not-a-teenager with her skinny body and thin face on Annette's couch.
She also bit back the what makes you think it's your fault? No, if there was a fault here, it was all Miguel's.
"What do you wear to bed when you share it with him?" Annette asked instead.
"A-a shift?" Tawny stared at her.
"Well, perhaps you could try finding something a bit more–sensual. I know a tailor who sorta specialize in that sort of thing." Annette offered. Not that it would help, but Tawny's lack of confidence probably didn't help either.
"Oh. Do you think that's it?" Tawny folded her skirt and refolded it. No. Annette thought. I think he's just got a glitch in the system.
"It couldn't hurt." Annette offered instead of answering, climbing to her feet to pace the room. "Also, I can recommend some literature. Uh, might give you some other things to try. I've heard that role-playing in the bed-chamber helps." Yeah, I pretend you're somebody else, you pretend I'm somebody else and let's see if that works. The problem with these suggestions were that they all implied that it was Tawny's problem. Tawny wasn't doing the right thing to get Miguel to salute with his little soldier. And Annette knew, considering Miguel had been married twice before and ended the marriages when his wives didn't fall over pregnant, that it wasn't.
"But what if it doesn't work?" Tawny all-but-wailed. Annette paced a moment longer, unfortunately because of where Tawny sat, there were two of her staring at Annette with mute appeal as if she were the girl's last hope.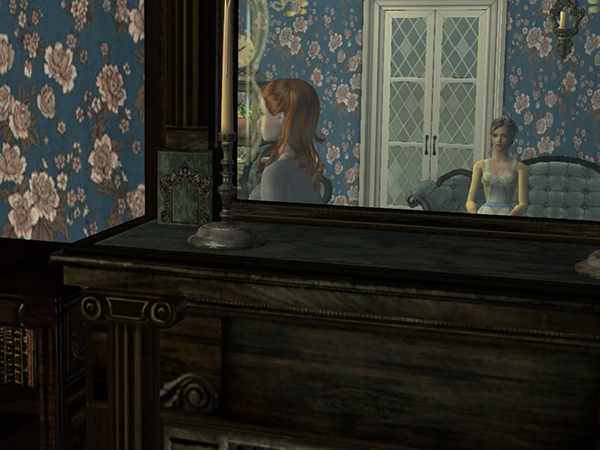 In a way, she probably was. Parker Conway wouldn't have started negotiations for Tawny barely before Miguel's second divorce decree was dry if he were a kind loving father who truly cared about his daughter. If Tawny didn't get pregnant and Miguel divorced her, the girl would probably be forced to take the veil, her father having no use for a barren daughter.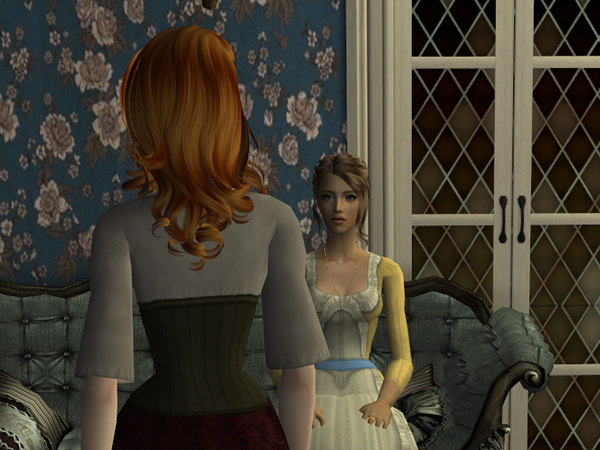 "Can I be blunt?" Annette turned and looked at Tawny, who bit her lip but nodded. "My best, truest suggestion for you, Tawny, is find a lover who looks like your husband." Tawny gasped, horrified, blue eyes bulging.
"You–you can't possibly be–cuckold Miguel?" Tawny wailed. Oops, I might've said too much. "Did-did?" She looked at Annette as if she had ripped away a costume to reveal a Medusa instead of a sim.
"Don't be an idiot." Annette said shortly, sitting down next to the other woman. "I could comb Albion twice over and never come up with another blonde haired, lavender-eyed man, whether he looks like Masen or no. And Lyssa has her father's coloring in both eyes and hair which she certainly didn't get from me. No, Lyssa is Masen's daughter. But the problems that Masen and I have are not the same ones that you and Miguel have." Annette leaned back against the back of the settee and stared up at the ceiling for a moment.
"But Tawny, has it occurred to you that you are the third wife that Miguel has had trouble getting pregnant?" Annette said after a long moment.
"Well, aye, but…"
"No buts. I know that Miguel will not even consider the fact that the problem might be his own and not the fault of his wives. Even though his first and second wives both have had no problems conceiving in their other marriages. But you have to consider it." Annette told her bluntly. "And if it's his problem and not yours then there's nothing that you can do that will be a guaranteed solution to this problem. Nothing. All you can do is cross your fingers and hope that maybe you have a better in with the Lord Wright than your predecessors."
"Nothing?" Tawny asked in a small voice. Yeah, being told that there was nothing you could do probably would do that.
"Look, I'll get you the name of that tailor and the book seller who sells the books that might help. Maybe if you are a bit more proactive, enjoy yourself, then it will come a bit more naturally and it'll work out. Maybe." Annette climbed to her feet and went in search of a scrap of paper leaving Tawny to sigh and stare at the rug.
"I'm sorry." Annette said as Tawny collected herself to go.
"I–I appreciate your forthrightness." Tawny said after a moment.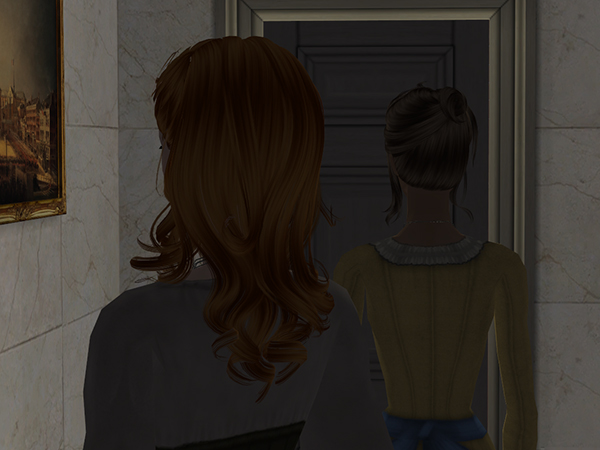 "Which has to be about the most awkward compliment ever given." Annette offered the other woman a grin. Tawny smiled back and opened the door to the outside. Annette waved and smiled as the other woman headed off to her own house, even if Tawny didn't look back, then closed the door and slumped against it.
"Is this really all there is to life?" She inquired of the cold marble tiled walls of the entry way. They didn't answer, instead seeming to look like her life, day after day of cold, unyielding steps down a long narrow path that lead to an end.
A knock on the door against her back startled her out of her reverie. She smoothed her hair and skirts and turned to open the door. It revealed a familiar figure. "Oh thank the Lord," She said. "You were just the person I needed to see." Her hand snaked out the door and grabbed his hand, pulling him inside before slamming the door against the world that was just more than she could deal with right now.